ECLA GUEST LECTURE: Stephen Halliwell Joins Final Week of the AY Core
December 14, 2005

Stephen Halliwell from the Classics Department at University of St. Andrews, Scotland, gave two lectures in the final week of this term's AY core programme.

Halliwell, whose work includes a commentary on Book 10 of The Republic, gave the Monday lecture on 'Plato on Tragedy'. He continued with an extra Tuesday lecture on 'Aristophanes' Frogs', drawing on his current research on Greek Laughter: Explorations in Cultural Psychology.
3 Chords and the Truth perform at Lyrik Cafe.
'3 CHORDS AND THE TRUTH' CONCERT
Bluegrass Band Plays for a Full House
December 7, 2005

On December 3, ECLA's very own bluegrass band, 3 Chords and the Truth, filled Cafe Lyrik in Prenzlauer Berg with twangy chords and soulful melodies, much to the delight of their audience who called for an encore after the final song. The band played two sets, featuring strong vocals by Aurelian-Cezar Cherciu (AY 2006, Romania), Natalia Kowalczyk (AY 2006, Poland), Charles Lang (SY 2004, USA), Sofia Skatchko (PY 2006, Ukraine) and Barbara Shriver. They were accompanied by Lucian Cosinchi (PY 2006, Romania) on acoustic guitar, Firat Oncel (AY 2006, Turkey) on bass guitar, Liv Schwenk (AY 2006, Germany) on violin, Julian Triandafyllou (AY 2006, Germany) on mandolin, Dick Shriver on banjo and Alex Tischbirek on soprano saxophone.
Dick Shriver, Provost Emeritus, started the band two years ago 'to capitalize on the musical talent both instrumental and vocal that just naturally shows up at ECLA each year.' The group acquired new members at the start of Fall semester and its repertoire has grown as a result. They played for ninety minutes on Saturday night, including several new songs and timeless favorites such as Rocky Top, Hey Good-looking and Cripple Creek.
ECLA PROGRAMMES RECEIVE CERTIFICATION
December 5, 2005
ECLA has received notification that the college has been granted full certification of its academic programmes by the American Academy for Liberal Education, a fully-licensed and recognized accrediting association based in Washington, DC, USA. The certification is the result of a year-long process that resulted in an institutional Self-Study that demonstrated ECLA's compliance with the rigorous criteria set by AALE for the certification of non-degree granting programmes. The standards are meant to cover a broad range of characteristics of liberal learning, including the areas of effective reasoning, breadth and depth of learning and the inclination to inquire, as well as additional categories including mission, general education, learning assessment, curriculum and qualifications for faculty and staff.
The certification came upon the recommendation of an AALE evaluation site committee that examined the Self Study and visited the ECLA campus for three days in October to talk with faculty, students, and administrators, attend classes, and verify the information provided in the Self-Study. It applies to all three ECLA programmes, the Academy Year, the Project Year, and the International Summer University, and is in effect for a term of ten years. In his letter informing ECLA of the Board's decision, Dr. Jeffrey Wallin, President of AALE wrote: "The Board of AALE wishes me to convey its strong approval of the mission and curriculum of ECLA. It also finds the critical and encouraging comments made in the Self-Study and Site Evaluation Report to be appropriate as the College moves forward with its plans for awarding the Bachelor's degree."
President Laurent Boetsch expressed his satisfaction with the entire exercise: "One reason that we sought to work with AALE was the nearly complete compatibility between the standards for liberal education that they articulate in their criteria and our own thinking about the kind of education that ECLA provides. They are the only accrediting agency dedicated solely to the evaluation of liberal arts education. The Self Study process over the past year has benefited us enormously in terms of measuring just how much progress we have made to date and what we still need to do in order to strengthen ECLA as we look to the future."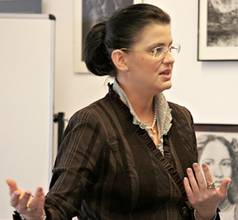 ECLA GUEST LECTURE: Anca Daniela Boagiu, Minister of European Integration of Romania, speaks at ECLA
December 1, 2005

Alumnus Alex Nazare (2002-2004, Romania) invited Anca Daniela Boagiu, the Minister of European Integration of Romania, to give a special lecture at ECLA on November 26. Boagiu discussed the current state of Romania's preparations towards EU membership and contemplated the future role of Romania within the European project. Addressing the, mostly Romanian, audience of approximately thirty students, she acknowledged the value of studying and working abroad but expressed hope that they would choose to return home with their newfound experience.
Nazare spent two years studying at ECLA. He returned to Bucharest in 2004 and currently works as a top-level aid to Minister Boagiu.
During their tour of the Reichstag, students learn about the building's unique design.
"SEEING BERLIN" Programme Takes Students out of the Classroom and into the City
November 28, 2005

Although only in their second month at ECLA, some students have already seen more of Berlin than the locals, due in part to the "Seeing Berlin" programme that was introduced this academic year. Art historian Aya Soika is coordinating the programme, which exposes students to the cultural and historical aspects of Berlin through regular events. The semester began with two different walking tours through the city center. Tomaž Čebašek covered much ground and history as he led students pass a remaining section of the Berlin Wall on Bernauer Street to Kunsthaus Tacheles to the final resting spots of Hegel, Fichte and Brecht in Dorotheenstadt Cemetery, eventually finishing the tour at Brandenburger Tor. Soika's tour, which began at Gendarmenmarkt and ended outside Schinkel's Altes Museum on Museuminsel, took in much of the architecture along Unter den Linden and certain memorials including Käthe Kollwitz's Mother and her Dead Son inside the Neue Wache.

As the days in Berlin have grown shorter and colder, "Seeing Berlin" excursions have moved indoors. Many students opted to wake up early on a recent Saturday morning for a private tour of the Reichstag Art Collection. While waiting for the tour to begin, students asked their Russian-speaking peers to translate the graffiti-covered walls, defaced by Soviet occupation troops in 1945. The tour guide later explained the controversy behind the graffiti that was rediscovered during the building's renovation in 1995. The group saw installations by artists Jenny Holzers and Christian Boltanski as well as the new Reichstag eagle, designed by Norman Foster. Although students came for the art collection, they learned more about the building's history and architecture including unique design features that make it environmentally responsible. The tour ended in the Reichstag's Plenary Hall at which point the group was allowed to cut the line forming in the rain outside for a view of Berlin from Foster's famous dome.

The "Seeing Berlin" programme continues in December with museum visits to Berlin's contemporary art museum, Hamburger Bahnhof, the Film Museum on Potsdamer Platz and the temporary Picasso exhibition at the Neue Nationalgalerie.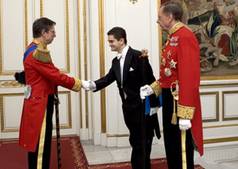 THEODOR PALEOLOGU APPOINTED AMBASSADOR OF ROMANIA TO DENMARK AND ICELAND
November 24, 2005
Theodor Paleologu, Programme Director of the International Summer University, was recently appointed by the President of Romania, Traian Basescu, to serve as the Ambassador of Romania to Denmark and Iceland. Paleologu will officially begin his diplomatic mission when he presents his credentials to Queen Margarethe in a ceremony on December 9.
Paleologu's ambassadorial service coincides with the entry of Romania in the European Union, scheduled for 2007. The post will allow him to participate in the collective effort leading up to Romania's EU membership, which he views as a "turning point in [the nation's] history." However, Paleologu brings an ulterior motive with him into the world of diplomacy. He hopes to become "a better teacher of political science, since in this field practice and theory should not be separated." This is good news for ECLA because Paleologu plans to maintain strong ties with the institution. He will continue to coordinate the International Summer University and has proposed a variety of block seminars for State of the World Week and the Rome trip as well as a new course entitled, appropriately enough, "Diplomacy in Theory and Practice".
Nevertheless, Paleologu's leave from the full-time faculty is bittersweet one for both ECLA and him. Reflecting on his ECLA experience Paleologu said, "ECLA is a home for me and my family. ECLA is a place of intellectual exchange with my colleagues, 'the youngest and the brightest', as [President Laurent Boetsch] said once about this unique faculty. ECLA is a community of friends, which is the best possible acquisition for our entire lives. ECLA, in one word, realizes the promise of the French 'éclat'."
ECLA GUEST LECTURE: Sabina Lovibond Lectures on Plato's Republic
November 23, 2005
Sabina Lovibond joined the AY core in Week 7, when lectures and seminars focused on some of the central books in Plato's Republic, and gave the Wednesday lecture entitled, 'Plato on Why We Need Philosophers'.
Lovibond, whose research interests include Ethics, Ancient Philosophy and Feminist Theory, is a Fellow and Tutor in Philosophy at Worcester College, Oxford University, and the author of Ethical Formation (Harvard University Press, 2002).
Michael Cullen answers a question during his lecture on the wrapping of the Reichstag.
ECLA WEEK: College Community Takes Part in 'ECLA Week' Events
November 11, 2005
The fifth week of Fall semester is 'ECLA Week', a week that allows students, faculty and administration to take a break from the regular academic routine and participate in community-building activities. The special week was initiated last year and includes events ranging from academic to social to athletic.
ECLA invited Michael Cullen to open the week with a guest lecture entitled, "the Symbolism of the Reichstag." Cullen had the idea to invite the contemporary artist Christo to Berlin, which eventually lead to the wrapping of the Reichstag building in 1995. Cullen gave a fascinating account of a project that took over two decades to unfold and earned him a Berlin Merit Award in recognition of his initiative.
Other guest lecturers this week included photographer Patrick Hinely and ECLA's Musicologist Morag Grant. Hinely discussed the art of photography in his lecture "Jazz Photography and the Berlin Jazz Fest." He described his journey through photography, presenting slides chronologically from his early photos to his most recent work with the Berlin Jazz Fest. Grant gave a lecture on the Scottish song Auld Lang Syne and its impact on the world. She also closed ECLA Week with a Musicology seminar, which introduced students to the works they will hear at the Philharmonic concert on November 15th: Schoenberg's Variations for Orchestra and Mahler's Das Lied von der Erde.
The ECLA community had a chance to meet some of its Pankow neighbors this week at an open house in P24. President Laurent Boetsch and Assistant to the President Tomaž Čebašek as well as other members of faculty, administration and the student body chatted with visitors and explained ECLA's model of 'liberal learning' during an informal wine and cheese reception. In the future, ECLA plans to invite its neighbors back to campus for special film screenings and lectures.
Other scheduled events included a community bulb-planting project that promises to bring beauty and color to the campus next Spring; an afternoon dedicated to recreational sports including a 5km run/walk through the parks of Pankow; special film screenings both on and off campus; a "Sharing Poetry" seminar; and an International Dinner when everyone on campus is invited to cook and savor what is certain to be a unique array of dishes.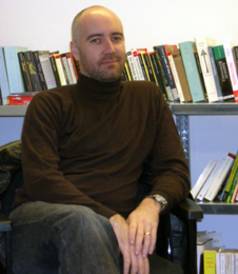 ECLA GUEST LECTURE: Ivan Crozier Delivers Two Guest Lectures in PY Core Course
November 7, 2005

ECLA welcomed Ivan Crozier for two guest lectures last week. Crozier lectured on the history of sexology and 19th century hysteria as part of the PY core course, which focuses on Freud this semester. Crozier is a Lecturer in the Science Studies Unit at the University of Edinburgh. He is well published in the field of sexology and is currently researching the boundaries of forensic psychiatry.
DEVILISH QUESTIONS - Ethical Conflicts in Biomedicine - Jens Reich's New Audio-Book Published
November 4, 2005

ECLA students will recognize the combination: A solid understanding of the new possibilities in genetics and the age-old ethical questions, such as "What ought we to do and what ought we not to do?" Widely recognized in Germany for bringing science issues into public focus through prize-winning prose, Jens Reich continues his contributions to this vital sphere of public debate with a new audio-book on 2 CDs. The audio-book includes an overview of the history of genetics and an account of gene technology problems. It also covers the decoding of the human genome and addresses the issues of the dignity of man, moral dilemmas involved in genetic engineering and the responsibility of researchers.
ECLA is delighted to accept Jens Reich's donation of a copy of Devilish Questions to its campus library. Additional information can be accessed through the Cologne based publisher suppose at www.suppose.de. For ECLA students, of course, the best way to keep in touch with the issues in bioethics is to sign up for Jens Reich's elective courses at ECLA.
Jason Pugatch instructs Silvia Fagarasan (Romania) during an acting workshop.
PERFORMANCE ELECTIVE: Actor Jason Pugatch (New York) Joins Performance Elective for Two Weeks
November 3, 2005

Jason Pugatch recently visited ECLA as a guest faculty member. For two weeks he co-taught David Levine's Performance class, introducing students to the acting techniques of Constantin Stanislavsky. After a general warm-up based on the Stanislavsky Acting System and a discussion on what good acting entails, the class worked with Chekhov's Three Sisters to explore notions of Given Circumstance, Action, Character, and script analysis. Etudes--small improvisations in which the students placed themselves as characters in the play independent of the text--were performed, and in the final class, students presented scenes from the play.
Pugatch also gave three additional acting workshops, one based in David Mamet's Practical Aesthetics, and two others in the Stanislavsky system, including explorations of imagination, observation, physical awareness, spatial awareness, stage pictures, and kinesthetic response.
Pugatch received his Master of Fine Arts degree from the Moscow Art Theater/American Repertory Theater Conservatory. He acts professionally in New York, and is the author of a forthcoming book on acting and the acting industry.
Students relax after a morning of sightseeing on the Weimar trip.
ECLA TRIP TO WEIMAR
October 15, 2005
By Ayse Pinar Koprucu (AY 2005-2006, Turkey)
ECLA's weekend trip started with a visit to Wartburg Castle in Eisenach, founded in 1067 by Count Louis the Jumper. One of the most memorable experiences here was to see the room where Martin Luther translated the New Testament from the original Greek texts into German in only ten months. The second stop was the Bachhaus, the first museum worldwide dedicated to Johann Sebastian Bach. The guided tour coupled with the live performance on historical instruments was a real treat. Saturday evening was a time for sharing impressions and musical improvisations at the youth hostel.
On Sunday, students and faculty left the hostel peacefully wrapped in the early morning fog, which slowly melted in the sunrays. A walk in the footsteps of Martin Luther, a gulp of fresh air, a batch of spectacular fly agaric mushrooms were some of the memorable moments. Later we had some time to stroll in the town of Weimar, which in fact could be described as a 'culture rush'. There was a lot to do, and some of the students decided to start with the museum of Friedrich Schiller, Schillerhaus. Schiller acquired the building in 1802 and lived there with his family until his death in 1805. It seems as if life for Schiller was not so easy, as it was for Goethe, as far as financial matters are concerned. Most of Schiller's manuscripts on exhibit are letters where he talks about his house and scraps of paper with calculations of the allocated amounts for items such as clothing, kitchen, house, etc. Some of his childhood drawings are on exhibit too: a colored pencil drawing of his father and a horse. The reproduction of 'The Departure of Hector' drawing from the second half of the 18th century hangs on the wall, which reminded some students of The Iliad, the first book on the AY curriculum. It is the scene where Hector has taken his helmet off in order not to frighten the baby with Andromache and the caretaker on each side.
Another visit was to Bauhaus with Laura as a guide. She explained that the goal for Bauhaus was to return to the essence of the object, which in the case of the table lamp in the shape of a bulb, a favorite of many, was the bulb itself. Next was the visit to Goethehaus, which is pretty much the same as it was in Goethe's time, even though it's hard to believe he had special rooms for exhibiting his collections consisting of busts, sculptures, minerals, plates, etc. The clock, which was too high to fit in the house, was made to fit in by carving the ceiling a little. The stairs are strikingly low because Goethe was hospitable and wanted to welcome his guests in a smooth manner, even at the stairway. It was interesting to hear that as Goethe was writing Faust he often put it aside and it was always Schiller who pushed him to finish it. They were colleagues and good friends at the same time. Goethe would provide Schiller with the regional information required for his books, which were often placed in settings he himself had never been.
Finally, the visit to Franz Liszt Haus impressed everyone with its homelike atmosphere and its original grand piano in the middle of the spacious yet comfortable room. Getting back on the bus, many were still thinking about the astonishing fact that all these outstanding writers, composers and artists lived just 'around the corner' from each other.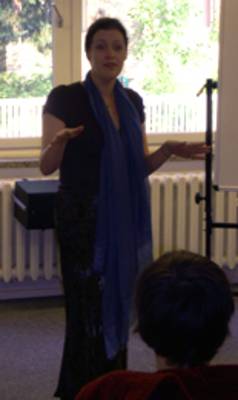 ECLA GUEST LECTURE: Edith Hall on 'Tragedy and Education'
October 14, 2005

Edith Hall delivered the first guest lecture of the academic year on Thursday, 13 October 2005. In her lecture, 'Tragedy and Education', Hall provided a historical context for AY students who are taking a core course this semester entitled, 'the School of Greece: Education, Virtue, and Rule in the Athenian debates.' Hall is a Leverhulme Professor of Greek Cultural History at the University of Durham and the author of Inventing the Barbarian: Greek Self-Definition through Tragedy.
NEW ELECTIVE: Richard Shriver Exposes Students to Global Issues
October 11, 2005
Richard Shriver, Provost Emeritus, will introduce students to the broad debates involving international relations today in his new elective, "Global Issues: Politics, Economics, National Security and Laws." Through readings and seminar lectures and discussions, students will acquire a basic understanding of key concepts in international relations. They will apply theory to reality during a weekly current events panel discussion where they will confront the same global issues that face leaders everywhere. Students will have the opportunity to attend guest lectures in Berlin by leading academics in the field such as Samuel P. Huntington. ECLA alumnus Florian Hoffmann (Germany, 2002-2004) will assist Shriver in teaching the course. Hoffmann studied at Duke University last year and is currently completing his Bachelor of Arts in Political and Social Science at Humboldt University.
Other new electives this fall include "The Philosophy of Transcendentalism", "Theatre", and "Platonic Concepts of Art: from Antiquity to the Present." The courses will be taught by Tracy Colony, David Levine, and Aya Soika respectively. Complete course offerings for the upcoming semester are available online.
ON LIBERAL EDUCATION: First Week of Class Introduces Students to 'Liberal Learning'
October 11, 2005

President Laurent Boetsch and Programme Directors Peter Hajnal and Thomas Norgaard officially welcomed students and faculty to ECLA's fourth academic year on Friday, October 7th. Continuing a tradition that began last year, the first week of class is designed to introduce students to the idea of 'liberal learning.' Students gained an awareness of the issues surfacing in modern debates about liberal education through their weekend reading assignment. This will inform their discussion during today's plenary session on liberal arts as well as further debates throughout the academic year. The introductory week reminds students and faculty that ECLA is a school in the process of becoming and to be studying and teaching at ECLA means thinking about the shape and purpose of liberal education.
The week is especially relevant for AY students who will study Greek philosophy, literature, and art, produced or compiled in Athens during a period when Athens became 'the school of Greece.' This was a period of intense debate about education and the AY core will grapple with the same fundamental questions that faced the ancient Greeks and that are still important in these modern times. Students and faculty will take their bearings from topics raised in Plato's Republic throughout the term.
President Laurent Boetsch and Senator Flierl attend an Art History lecture at ECLA.
GUESTS AT ECLA: Senator Flierl and Mayor Kleinert Visit ECLA on First Day of Class
October 11, 2005

Dr. Thomas Flierl, Berlin's Senator for Science, Research, and Culture, and Burkhard Kleinert, the Mayor of Pankow, visited ECLA yesterday afternoon. Flierl and Kleinert met with President Laurent Boetsch to discuss liberal arts education and learn more about the programmes offered at ECLA. They then attended an Art History lecture given by Aya Soika. Flierl took a moment to address the students in attendance. Referring to Wilhelm von Humboldt, he explained that general education actually has a long tradition in Germany although that may not seem the case nowadays when it is more common for German university students to specialize immediately in a particular discipline. He reiterated this point by drawing parallels between the meaning of the German word "Bildung" and the philosophy behind a liberal arts education. He closed by expressing his pleasure in visiting an institution that acquaints young people with the "joy and passion of lifelong learning." After the lecture, Flierl took a tour of the campus and chatted with students, professors, and alumni at a small reception in House 70.
THREE NEW PROFESSORS JOIN ECLA'S FACULTY
October 10, 2005
ECLA welcomes three new professors this year. A.P. David received his doctorate from the Committee on Social Thought in the University of Chicago. He specializes in ancient Greek and in Homeric Studies, but likes to read (and perform) everything written in Greek, including mathematics. His book, The Dance of the Muses: Choral Theory and Ancient Greek Poetics, will be published next year.
Aya Soika returns to ECLA this semester after two years away. She received her doctorate in History of Art from the University of Cambridge. She is currently writing a biography of the Expressionist painter Max Pechstein and has taken up work on the Catalogue Raisonné of Pechstein's oil paintings. In addition to teaching the Art History elective, Soika will coordinate ECLA's new "Seeing Berlin Programme." The programme exposes students to the cultural and historical aspects of Berlin through regular events including walking tours, museum visits, film screenings, guest lectures, and concerts.
David Hayes will spend a year at ECLA as a post-doctoral teaching fellow. He expects to receive his doctorate from the Committee on Social Thought later this year. His dissertation is entitled "Romantic-ironic Figures in Ancient Greek Love Poems."
ECLA Alumna Directs 'The Snowman' on the ECLA Campus
August 23, 2005

As guests entered the teaching building at ECLA this Sunday, they were presented with two plates of food: one filled with apples and the other with peanuts. This was not just a Sunday evening snack, but was meant quite literally to be food for thought: it was the opening of ECLA alumna Adina Scortescu's (AY 2004-2005, Romania) production of the Romanian play The Snowman (in an English translation). Actors Brindusa Birhala (ISU 2005, Romania) and Sofiya Skachko (AY 2004-2005, Ukraine) performed in the main roles of the play, which explores loneliness in contemporary society. Lucian Cosinchi (AY 2004-2005, Romania) performed music as part of the performance.
Sofiya Skachko (Ukraine) and Marilena Maris (Romania) take part in the city walk led by art historian Alessandra Kroegel.

DRESDEN TRIP
ECLA Students, Faculty, Administration Travel Together to Historic City of Dresden as Part of the ISU 2005
August 10, 2005
Midway through the International Summer University at ECLA, students and members of faculty and administration traveled together to the Saxon cultural capital of Dresden for a weekend of cultural site visits, exploration in the city and a boat ride down the Elbe river. ECLA's art historian Alessandra Galizzi Kroegel led students through the famed Zwinger museum and the Gemäldegalerie, in addition to taking them on a walk through the historic core of the city. The Neues Grünes Gewölbe, a series of chambers filled with the treasures collected by Saxon royalty, was also visited on the trip.
The weekend was capped by a two-hour ride in an authentic steamboat down the Elbe river to the medieval town of Meissen. This city, where European porcelain manufacturing techniques were first perfected, was not damaged in the second World War and provided the group with an especially interesting look into Saxon history.
The trip to Dresden was part of the summer programme in 2004, but was extended to two nights this year to allow for more activities in the city.
ISU TRIP TO DRESDEN
August 5, 2005

Midway through the International Summer University students and faculty will travel to Dresden. The trip will serve as an on-site exploration of European cultural, intellectual, and political history that complements the lectures and seminars of the first three weeks. It will also provide students with an opportunity to pause and reflect on what they have learned in the classroom before entering the final three weeks of the programme. There are several reasons why ECLA chooses Dresden as the destination for ISU 2005's excursion. This year the trip to Dresden has a special resonance, 2005 being the fiftieth anniversary of the firebombing by the Allied forces that destroyed the "Florence on the Elbe". Dresden's world-class art collections, its beautiful opera house built by Gottfried Semper, and its spectacular museums -- including those housed in the Zwinger, the eighteenth-century pleasure-palace built by Matthaus Daniel Poppelmann - bring to life many of the ideas explored in our summer program.

The city's landscape itself is a living museum of cultural and political history. The "old city" around the Theaterplatz and Bruehl Terrace where many intact pre-1945 buildings remain; the stone buildings that survived the devastating 1945 firebombing and were left to decay in the communist era; the utilitarian Communist-era structures; and the current restoration of old architectural structures all mark the fascinating developments in this urban landscape. The most famous of Dresden's buildings, the domed Frauenkirche, has risen like a phoenix from the ashes and will be fully restored to its original form in 2006, when Dresden will celebrate its 800th anniversary.

Through lectures, discussions and visits to all these landmark sites, students can discover for themselves how the past of this beautiful European city is as immediate as its present. There may even be time for a boat ride through the Saechsische Schweiz, where magnificent tabletop rocks rise on either side of the Elbe, a reminder of the kind of landscapes that inspired Romantic painters such as Caspar David Friedrich.
Students celebrate on receiving the 'ECLA Yourbook 2004-2005' ('Yourbook', not 'Yearbook')



COMMENCEMENT 2005
ECLA Celebrates the Conclusion of its Third Academic Year
July 5, 2005

ECLA celebrated the end of its third full academic year with a series of events designed to give the entire community an opportunity to recognize Academy and Project Year students. The final week of the term began with public oral presentations from each of the Project Year students (see Students Present Research Projects to Fellow Students and Faculty, below) followed by a dinner hosted by Dean and Mrs. Boetsch at the "Yellow House" in honor of PY students and the faculty. Later in the week ECLA was treated to a musical concert, compliments of the students who had taken voice lessons with ECLA's music director, Sarah Paleologu. Alumni, students, and faculty heard selections performed by: Sofiya Skachko (Ukraine), Qimin Wang (China), Geraldine Hepp (Germany), Friederike Wenzel (Germany), Maria Mocanu (Moldava), Yelena Zaitseva (Kazakhstan), Joseph Ollapally (India), Cristina-Daniela Virlan (Romania), Alena Matzke (Germany). Singers were accompanied by Jiyoon Im (USA).
Later in the week more creative talent was on display when three students introduced their artwork at an "opening" and reception for the ECLA community. Geraldine Hepp (Germany) spoke about what inspired her portrait painting while Ioana Muntenescu (Romania) and Mircea Petrescu (Romania) displayed and spoke about their photographs.
The Commencement celebration was held once again at the Pankow Rathaus where students, faculty, parents, guests, and friends were welcomed by Frau Almuth Nehring-Venus representing the city government. Geraldine Hepp (Germany) and Ioana Muntenescu spoke on behalf of AY and PY students while Provost Richard Shriver gave a provocative address challenging students to think about seven key questions certain to occupy the world of the 21st century. Musical interludes were provided by Charles Lang on the piano and by the ECLA Choir under the direction of Sarah Paleologu.
Finally, following an elegant reception and dinner in the garden at Waldstr. 70, two students introduced films that they had made during the past academic year. Maria Veyts (Russia) showed her documentary, Lost and Found, and Jane Kurbat (Belarus) brought back a host of wonderful memories with her film of the ECLA trip to Italy.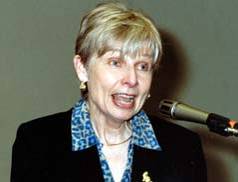 ECLA GUEST LECTURE: Newsweek's Eleanor Clift Speaks at ECLA
July 4, 2005

On June 30th, ECLA welcomed Newsweek's Eleanor Clift to our campus for a guest lecture about her extraordinary experiences as a journalist. Eleanor Clift is a contributing editor for Newsweek magazine and appears regularly as a panelist on the nationally (US) syndicated talkshow "The McLaughlin Group." Her column, "Capitol Letter," is posted each week on Newsweek.com and MSNBC.com. Clift has also appeared in several films, including "Independence Day," "Murder at 1600 Pennsylvania," and "Dave," as well as the CBS series, "Murphy Brown."
This guest speaker is the latest in a series of events and programmes through which ECLA challenges the idea that liberal education provides a refuge from the so-called real world. ECLA's programmes give students the opportunity to think reflectively while keeping their education relevant to international affairs, business and government. Texts by Sartre and Austen find their place next to the annual State of the World Week, Business Seminars and special guest speakers like Eleanor Clift.
Project Year student Jiyoon Im (USA) presents her research project entitled "Methods in Philosophy: Conceptual Analysis and

PROJECT YEAR
Students Present Research Projects to Fellow Students, Faculty
July 4, 2005
ECLA's thirteen Project Year students presented the final version of their research projects in a two-day event capping the Project Year programme at ECLA. Students' research topics were as varied as the specialisations of ECLA faculty and ranged from the poetry of Francesco Petrarca through the philosophy of Heidegger to the dangers of Weapons of Mass Destruction. The Project Year programme at ECLA was introduced in the Autumn of 2003. It allows students to pursue an individual research project while also taking an interdisciplinary core course and elective courses.
Florian Hoffmann (2002-2004, Germany), left, and Rouven Ramon Steinfeld (2003-2005, Germany)

STUDENT PROJECT
ECLA Sponsors First Off-Campus Artistic Production with Rosencrantz and Guildenstern are Dead
June 13, 2005

According to the programme notes to the production of Rosencrantz and Guildenstern are Dead, which played in Prenzlauer Berg this weekend, "the play evokes the motive of a humanist enlightened search for coherency in a seemingly postmodern fragmented world." It is perhaps then no surprise that two of the directors/actors in the production are ECLA alums: Rouven Ramon Steinfeld (Germany, 2004-2005) and Florian Hoffmann (Germany, 2002-2004) directed and played the two main characters in the play.
The production, which drew an audience of about forty people to each of the two showings, was staged in a subterranean space formerly used to store water in the Prenzlauer Berg district of Berlin. The play was supported through Student Projects funding at ECLA.
ECLA Programme Directors, Dean Speak at Dean's Council in Atlanta
June 6, 2005
At the invitation of the Associated Colleges of the South (www.colleges.org), Peter Hajnal, Thomas Norgaard and Larry Boetsch traveled to Spelman College in Atlanta, Georgia, USA, last week to give a presentation on ECLA to the Dean's Council of ACS. Dean Boetsch gave a brief overview of ECLA within the current context of higher education in Europe, while Programme Directors Norgaard and Hajnal described the features of ECLA's problem-centred, interdisciplinary curriculum. "We had a lively question and answer period after the presentation, and the discussion continued over lunch," said Boetsch after returning to ECLA. The three were also given a tour of the Spelman campus.
The Associated Colleges of the South is a consortium of fifteen liberal arts colleges that helps to articulate the nature of liberal learning in society as a whole. ECLA and ACS are seeking areas of mutual collaboration between our faculties and students and this meeting was meant as a means of initiating what is likely to be an on-going conversation between the two groups.
ECLA also celebrated the conclusion of the 2003-2004 academic year in the Rathaus Pankow.
ECLA to Close Third Academic Year with Celebration in Pankow Town HallJune 3, 2005

On the 22nd of June ECLA will celebrate the closing of the academic year 2004-2005 in the beautiful 'Ratssaal' of the Town Hall of Pankow. The building was constructed in 1902, in the middle of a population boom that made Pankow - previously a small town outside of Berlin - into a contiguous district of the capital city. Thirty-one students in the Academy Year and thirteen students in the research-oriented Project Year programmes at ECLA will receive certificates as part of the ceremony, which is to include student music performances and addresses by the ECLA academic leadership and a guest speaker.

Many of ECLA's Project Year students are looking forward to continuing their studies next year at the graduate level at institutions all over the world, including Columbia (USA), Leuven (Belgium), Georgetown (USA), Bremen (Germany), University of London (UK) and Boston College (USA).
Anna Bitkina (left, Russia, 2003-4) and Maria Veyts (Russia, 2004-5) included ECLA students among their interviewees

STUDENT PROJECT
Students from Former USSR States Search for Identity in Documentary Film
June 3, 2005

Maria Veyts (Russia, 2004-5) and Anna Bitkina (Russia, 2003-4) took an introspective look at one of ECLA's prominent cultural components this semester in their film Lost & Found. In the film, the two young directors try to uncover the identities of their schoolmates from former Soviet Union Republics. In the interviews presented in the documentary, the students discuss several aspects of these identities: language, national traditions, influence of the Soviet Union past and their relationship to Europe as well as the future development of their countries and their personal futures. Through their stories the participants of the film draw cultural borders of their countries and distinguish their national uniqueness, a process which was largely neglected during the second part of the 20th century. The film was presented at the short film festival 'Shooting Europe' which took place in Karlsruhe, Germany on May 1-5, 2005. More information about the festival at www.aegee.org/moviefestival/
Trevor Margraf (USA) speaks to fellow students and visitors as part of the two-day simulation.
STATE OF THE WORLD WEEK 2005
ECLA Hosts EU-Parliament Simulation as Part of the SWWE
May 25, 2005


With students from over 20 countries, there is no better place to hold a simulation of the European Parliament than ECLA. The topic of debate at the simulation held here last week was Turkey's candidacy for membership in the EU - part of the overarching theme of this year's State of the World Week: EU Enlargement. More than ten students traveled from universities across the continent to take part in the special week at ECLA. The final vote? Tomaz Cebasek, who helped organize the event, says "when the vote was taken according to the countries they were representing, Turkey didn't get in, but in the second vote - when the roles were dropped - Turkey made it."
ECLA Dean Laurent Boetsch to Head College Starting in Summer 2005
April 14, 2005

ECLA faculty, staff and students take great pleasure in welcoming Laurent Boetsch as ECLA's first President. Dr. Boetsch, currently Dean of Academic Affairs, will take on the role of President starting 1 July 2005, serving in that role as both Dean of Academic Affairs and Chief Executive Officer.
Dr. Boetsch comes to us after many years of distinguished service to Washington and Lee University, where he has served as Dean of the College, Provost and Acting President, in addition to holding a professorship in Romance Languages. He brings to ECLA a deep commitment to international education and a zest for exploring new ways of teaching and learning, combined with a warmth of personality and sense of humour that have quickly earned him the respect and affection of the ECLA community over the past year.
ECLA GUEST LECTURE: John Guarino, CEO of Coca-Cola Germany, Speaks at ECLA on Corporate Image, Distribution
April 8, 2005

ECLA brought students face-to-face with some of the world's most experienced and successful businesspeople for the third consecutive year as part of the 2005 ECLA Business Seminars programme. The programme ran over a period of three weeks and featured one week-long session each on cash flow and marketing, plus three guest speakers (more about Business Seminars). John Guarino, head of Coca-Cola Germany, spoke with the students about the challenges his company faces as market forces change. Due to new health consciousness in Germany, for example, "seven out of our nine new products in Germany this year are low-calorie products," said Guarino.
ECLA Alumni Building Network on 'Curiosity,' 'Friendship' and 'Creativity'
March 11, 2005
Alumni contacts at ECLA have been strong since the first class left the campus in 2000: former students from all programmes have used email groups, small reunions and the ECLA web site to keep in touch with the closely-knit community they participated in at ECLA. To take this project one step further, alums Siret Paju (Estonia, AY03, PY04), Martin Zickendraht (Germany, AY03, PY04) and Florian Hoffmann (Germany, AY03, PY04) decided to establish a true alumni network for the college. "The goal is to create an institutionalized framework for alumni relations at ECLA," says Hoffmann. "We're using three questions to guide our project: How can alumni find out about other alumni? What can ECLA do for its alumni? How can alumni contribute to the project of ECLA?" These three questions are associated with 'Curiosity', 'Friendship' and 'Creativity' (respectively), and will be used to guide development of the ECLA Alumni Website and the creation of alumni posts for each class (such as Class Secretaries), according to Hoffmann.
Students rest after a tour of the Colosseum in 2004.
Seminars, Film and Texts Prepare Students for Annual Italy Exeat
March 4, 2005

This year, ECLA's annual Italy Exeat will be preceded for the first time by the Italy Preparation Week. In this week, regular classes will be replaced by a full schedule of lectures, seminars and film screenings relating to the intellectual, political and cultural history of Italy. The Italy Exeat is a special week at the end of the winter term when ECLA moves all teaching to Italy. On-site lectures and tours given by our own faculty are complemented by talks given by local experts. The 2005 itinerary includes the cities of Venice, Florence and Rome.
ECLA GUEST LECTURE
"The Impotence of Reason"- Susan Neiman, Philosopher and Director of the Einstein Forum, on Hume´s "Dialogues"
February 23, 2005
On Monday, 28 February 2005, ECLA´s academic community welcomed Susan Neiman for a guest lecture on Hume´s Dialogues Concerning Natural Religion. Professor Neiman´s talk was part of a two-week theme on Faith and Reason in the Academy Year´s core course in intellectual history. Neiman is author of Evil in Modern Thought: An Alternative History of Philosophy and Director of the Potsdam based Einstein Forum.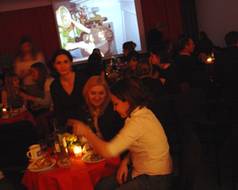 ECLA WEEK Features Guest Lecturers Eduardo Velasquez and Levent Soysal
February 12, 2005

ECLA Week in Winter Term this year featured guest lecturers Eduardo Velasquez (Washington and Lee University) and Levent Soysal, who has been a regular visitor to ECLA since year-round teaching began in 2002. Velasquez spoke and led a seminar on the play Copenhagen, while Soysal lectured on immigration cultures in Berlin. A site visit to the heavily Turkish neighborhoods of Berlin followed Soysal's talk. ECLA Week is a special week which focuses on fostering community and positive connections to the neighborhoods surrounding ECLA in Berlin.
Fiamma (2002-2003, Germany)

ALUMNI PROJECT
ECLA Alumna Founds Non-Profit Organization to Help Guatemalan Children
February 3, 2005
Three years ago, Fiamma Rupp-Gembs spent a year in Guatemala volunteering in the garbage dumps of Guatemala City. In her time there, she recognized a gap in the assistance offered by existing aid programmes in the country: she wished that an organization would be created that would involve more intercultural exchange and communication. A year later, she founded her own aid programme. Lead by her "desire to create a new system for aid organizations which would foster development but at the same time would not create new dependence," she now heads "Sichere Perspektiven - Secure Perspectives e.V.", called "Seguras Perspectivas" in its Guatemalan seat.

Fiamma's own words about the project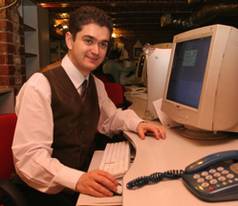 ECLA Students Work with Prominent Romanian Faculty Member
January 27, 2005

Through his numerous appearances on political and cultural talk shows in Romania, and through his writing as editorialist for the daily paper Ziua, Theodor Paleologu is a personality quickly recognized by many of his countrymen. His busy schedule includes teaching a full load of classes at ECLA and supervision of three Project Year students. Ionut Lacusta, for instance, who is a student from Romania, is teaming up with Paleologu to do research on non-regular armies and the political philosopher Carl Schmitt.

In the last year, Paleologu has also authored two books:
Sous l'śil du Grand Inquisiteur: Carl Schmitt et l'héritage de la théologie politique (Paris, Cerf, 2004)
De la Karl Marx la stenograme: Cronica anului politic 2004 (Bucharest, Curtea Veche, 2005)
Inge Deutschkron, who worked in Otto Weidt's Blindenwerkstatt, relates her experiences to ECLA students.
ECLA GUEST SPEAKER: ECLA's German Classes Bring Students Face-to-Face with German History
January 13, 2005


Dirk Deichfuss has lived in all three variations of Berlin over the last two decades: in the 80's he was a student in East Berlin, in 1989 he escaped to West Berlin, and six months later he lived in the unified city. No wonder the German instructor's excursions to local sites are so popular. Last quarter, he led the well-liked excursion series entitled "In the Footsteps of the Wall," which took students to sites that played important roles in the life of the divided city, including Schloß Cecilienhof, where the Potsdam Conference was held, and the Mauerdokumentationszentrum, a museum documenting the Wall. In another outing a group of over 30 ECLA students visited the Blindenwerkstatt, where Otto Weidt saved the lives of scores of Jews from the National Socialists by employing them in manufacturing work. In addition to teaching German, Dirk Deichfuss is Coordinator of the language programme at ECLA.