Paleologu (left) with the soprano and alto sections of the choir. The ECLA choir has thirteen members.
ECLA Choir Visits Local Children's Home
December 14, 2004

Sarah Paleologu, who directs the ECLA Choir, surprised her vocalists this Winter by including some simple childrens' songs in the holiday season's repertoire. The one-line canons like 'London's Burning', which are based on simple repeated harmonies, made perfect sense, however, when the choir recently visited Sonnenhof (English: sunny courtyard), a home for children with incurable diseases. Volunteer workers, children and staff of the home, which is located just a few houses away from one of ECLA's buildings, attended the concert. The choir sang songs in Ukrainian, German, Romanian, English and Portuguese, reflecting the diverse nationalities represented among the members of the choir.
Rouven Steinfeld (Germany), Shahira Eissa (Egypt) and Ximin Wang (China) perform as a seminar group.
Performance Class Ends Autumn Term with Production of "Four Seminars"
December 8, 2004

Finding four rooms full of students discussing labour, acting, and ethics in Kazan's "On the Waterfront" would not usually surprise a visitor to ECLA. On Wednesday night, however, the students in the seminars were acting - speaking memorized lines originally said by other students and then transcribed into scripts. Audience members circulated in and out of the rooms and observed the looped performances, which posed questions about the connections between academic endeavour, labour and acting. The performance class is taught by David Levine.
Four-year Degree Programme Planned at ECLA
November 28, 2004

In a paper made public this week, ECLA leadership describe plans for the continuing development of the College over the next five-to-seven years. The institution plans to maintain its small, academically focused community atmosphere while expanding its academic offering in anticipation of creating a four-year B.A. degree granting programme. The first class to receive a degree could enroll in the Autumn of 2006 and graduate in 2010.
ECLA's Marketing Manager Tomaz Cebasek with students.
ECLA Attends Recruitment Fair at the American University in Bulgaria
November 10, 2004

"There has been a great match between the AUBG students and ECLA's liberal arts programmes in the past, and I am sure that this trend will continue" said Tomaž Cebašek, ECLA's Marketing Manager, after his return from Blagoevgrad. About 100 students from 15 countries visited the ECLA stand to explore the study opportunities at the College. Cebašek also met with the ECLA alumni who are currently completing their degrees at the AUBG. "It was great to see our alumni and to see how their positive experiences have generated new enthusiasm and interest in ECLA".
ECLA Academics Speak on Liberal Education in Europe
November 8, 2004
On November 8th, College Dean Laurent Boetsch and Programme Director Thomas Norgaard spoke at a seminar in Stockholm entitled, "Liberal Education in a European Perspective". They were invited by the Swedish Foundation for International Cooperation in Research and Higher Education (www.stint.se) to discuss ECLA's history and future development.
Zulya Saidova (Kyrgistan), Franciska Bakos (Hungary) and Zhenya Kurbat (Belarus) prepare Eastern European dishes in a student house.
International Dinner and Music Night
November 4, 2004

Over 25 students, administration and faculty cooked dishes from more than ten countries for this event, filling six kitchens to prepare the food. The ECLA Choir performed several songs after the meal. The dinner followed four days of community and resource-centered activities which took place as part of ECLA Week.
ECLA Week
November 1, 2004
Fifth week of Autumn quarter is ECLA Week. During this week special events and seminars are scheduled that focus on the ECLA community and special resources for students. The week opens with a lecture from Wayne C. Thompson on the expansion of the European Union. Other events include a trip to a concert of the German Symphony Orchestra, ECLA community service events, a writing seminar, a museum visit, a city walk through "Royal Berlin" and an international dinner. Students, faculty, and administration also planted over a thousand flower bulbs during ECLA week. Look out for the first crocuses popping through the snow at the end of February.
Public Speaking Competition
August 5, 2004
All students, alumni and faculty were invited to attend the Public Speaking Competition, which was held in the Common Room of K24. Three participants competed in each of the following three categories (totaling nine speeches): Politics, Ethics and Religion. There were three fifteen-minute rounds, each dedicated to one of the three categories. All three students in each round received the same speaking topic, but they received the topic at different times so as to give each student exactly fifteen minutes to prepare before the appointed speaking time. Each participant was then alotted five minutes to speak to the audience of all those attending the event. After the three speeches, members of the audience voted to decide how to award the prize. Refreshments were provided at the event.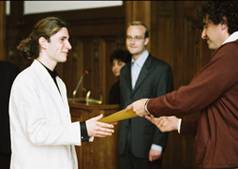 ECLA End of the Year Celebration takes place in the City Hall of Pankow
June 16, 2004

After completing the 2003-2004 academic year at ECLA, students of the Academy Year and Second Year programmes received certificates in the End of the Year Celebration. Addresses were given by members of the ECLA academic and administrative leadership as well as by students from each of the two programmes. Burkhard Kleinert, the Mayor of Pankow, also spoke. Music and theatrical performances accompanied the event and the reception which followed.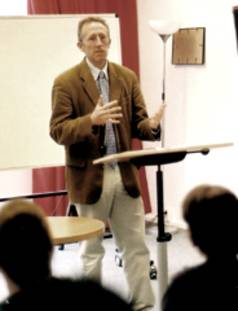 ECLA GUEST LECTURE: Roger Crisp on Utilitarianism
May 3, 2004
Roger Crisp, Fellow of St. Anne's College, Oxford, delivered a lecture to a standing room-only audience including students from both the AY and PY ECLA programmes. Mill's Utilitarianism was the focus of the week for Academy Year students, complemented by Orwell's A Hanging. Crisp is author of the Routledge Philosophy GuideBook to Mill on Utilitarianism.
STRAIGHT THEATER: Measures Taken
April 28, 2004

Guest director Doug Anderson visited ECLA to help stage Brecht's play about a group of communist agitators from Moscow who travel to China to spread their message there. The play was staged in the New/Old Building at Waldstrasse 98. Students Valentin Doychinov, Diora Ziyaeva, Rouven Steinfeld, Siret Paju and Max Roser acted in the play.
ECLA student in the Pantheon
Italy Exeat
March 7, 2004
For the final week of the winter term we moved all teaching to Rome to benefit from an on-site exploration of intellectual, political and cultural history. Lectures and tours were given by our own faculty as well as by local experts. This week brought new inspiration for students half-way through an academically intensive year and at the end of the Berlin winter. Photos are in the Photo Gallery. (This event was not open to the public.)