Fitness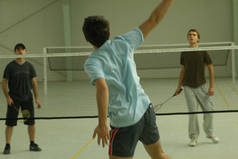 ECLA students, faculty and staff had free access to the SPOK Fitness Centre which is located at Nordendstrasse 56, about 10 minutes walking distance from the student houses. All fitness activities except tennis lessons were free of charge.
gym with exercise machines
fitness classes
tennis
badminton
soccer field
running track
basketball
volleyball
sauna
Music
Beginning the 2010 autumn term, ECLA offered a wide range of music possibilities for the music loving ECLA community. The focus was threefold: Choral, Vocal and Fundamental, under the guidance of Yvonne Frazier.

CHORAL
In its second season, ECLA Choir/Ensemble's goal was to provide a venue for seasoned singers and support for singers who are interested in singing, but need a bit of assistance to get up to speed. ECLA soloists, duets, trios and quartet song birds who are looking for smaller or extra rehearsal space were be provided support for their vocal expression.
Johannes Kannicht (AY'06, Germany) performs songs off his new album, accompanied by Sofiya Skachko (PY'06, Ukraine).
Student Projects
ECLA encouraged students to be creative and supported their initiatives through student projects that have academic relevance, artistic merit or make a substantial contribution to the social life of the college. Independent projects supported by ECLA ranged from photo exhibitions, fashion shows, short films and music albums, to the organization of extracurricular activities and the creation of a bicycle park. Various collaborative team projects such as the YEARBOOK, the student magazine - Eclactic, as well as theatrical productions were also funded as part of ECLA's student project initiative.
Project support decisions were made by the Residential Life Committee, while applications were handled by the Residential Life Coordinator.
Examples of student projects:
Vera Pluemer and Riana Betzler: Contemporary dance

Elizabeth Hanka: ECLA bicycles

Ioana Muntenescu: Photo exhibition

Paul Eisenberg

: Martial Arts course

Livia Marinescu

& Julianna Szöke: Poetrees

Soledad Rodriguez: Modern dance workshop

Johannes Kannicht: Production of a music album

Rouven Ramon Steinfeld and Florian Hoffmann: Off-campus production of Rosencrantz and Guildenstern are Dead
Maria Veyts and Anna Bitkina: Production of the film documentary Lost&Found